For the first time in quite a while, I took a little trip within Georgia. I was actually surprised when I counted up how long it's been since I traveled here (not counting occasional trips to Gori, which are too mundane to categorize as "travel" – I mean, going to get your hair cut just doesn't really rise to the required level of interest, I think) – since September, when my son visited. Time just kind of goes by, I'm so busy, loads of work and various things to do in Tblisi … so I jumped at this chance.
Usually I'm not so fond of Batumi, because in the summer the weather is unbearable there, incredibly hot and humid and heavy. However, it's not that time of year quite yet, so I decided to take the train there, even though it meant getting up at 6:00 am. As I've become completely Georgian in the sense that anything before 10:00 am is considered by me to be the crack of dawn, this was a considerable sacrifice on my part, but to get to Batumi in a mere 5 hours I rose to the occasion, so to speak. I met two Peace Corps Volunteers at the station and we found our seats on the new, beautiful train that glided through canyons and villages on the way. Zero food available – no coffee, no snacks, no nothing. My companions generously shared with me, and we reflected that Georgian Railways is missing a really good opportunity to generate some revenue. They could have one of those carts that the English push through the aisles, offering tea and biscuits. 🙂 Or at least some vending machines for god's sake!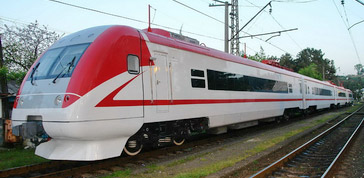 When we got to Batumi, it was raining, and I mean – waves of water, high wind, horizontal rain … by the time we got to lunch, I was soaked but it was kind of exciting. Some hot khatchapuri revived us, and off we went to what's called a "hyper-Carrefour," and indeed it was. I saw stuff there I haven't seen in years. Even the big Carrefour in Tbilisi didn't match this one. Suffice it to say there was an entire section of peanut butter. We bought a massive amount of food for the planned Seder and met up with others at the Airbnb we rented – on the 5th floor, no lift, shades of my time in Gori.
We had a taco night, I ate too much, and went to sleep shivering cold in a room overlooking the ocean (no heat, and for several hours, no electricity – when it came on, we all raised our arms simultaneously, shouting "ahhhhhh!!!") – woke up warm and cozy to a bright, sunny day. For the next two days, I experienced my absolute favorite type of weather – cool, not cold, breezy, not windy, clear blue skies studded with white cotton clouds and a delicious smell of plants and ocean salt in the air. It was fantastic, and I almost forgave Batumi for its summers.
So this was Saturday, second night of Passover. I had offered to volunteer at Lets Play Together event. LPT is a program that was put together by the group of volunteers immediately before mine, and I was on the committee that took it over and really grew it. The second LPT event was held in Gori, and another volunteer and I worked pretty hard on putting together a pretty successful day – not without its frustrations, but Jeremy Gaskill, the Director of McClain Association for Children, which supports LPT, always says it was the best one (which I very much doubt, but it's nice of him to say so). I took a lot of good photos and videos on that day, if anyone is interested you can see them here: https://photos.app.goo.gl/E5iHeOFKygk5Kc4g2.
This event was at a very posh school up in the hills, and it was a rousing success. The activities included music, dance, arts & crafts and sports, including the perennial favorite, tug-of-war. My group of kids had one quiet, smiling little girl named Lana, and 3 boys, one of whom was clearly hyperactive and required much chasing while shouting "Mischa, sad midixar?!" meaning, Mischa, where are you going?! They were all so cute, but my personal favorite was an extremely serious little boy named Luka. He looked severely worried when he arrived, and his mother made sure to tell me "he doesn't speak very much," but his face just lit up when dancing. It almost made me cry to see him having so much fun. After that he lightened up, spoke a little bit, and fully participated in the sports activities, even winning the relay race. I really loved being a volunteer again, if only for a few hours, and I resolve to try and do more volunteering here in Tbilisi if I can find the right opportunity. Here's a few shots of the day:
At the end we all took a photo of the volunteers together, it was nice to be part of a Peace Corps group again.
That night, the Seder. Here, being part of a group of volunteers wasn't quite as much fun. There were only three of us (meaning, Jewish) in a group of 11. We tried to condense the whole ceremony to under half an hour, just explaining a lot of it rather than actually doing it, e.g., dipping fingers in wine and reciting the plagues – I did a quick demonstration, that's it. We sang one verse of Dayanyu. That sort of thing. Nonetheless, there was a fair amount of complaining about hunger and "where's the food" kinda stuff (those guys should be at a real Seder sometime), and more disturbing, a fair amount of joking around. My siblings know how much I hate this, and I was even more perturbed that a lot of it came from older folks, who should know better. I always feel this kind of behavior is disrespectful, very much so. The Seder is a beautiful and meaningful ceremony, and I think we can refrain from joking around during it. Save it for dinner, guys. I swear I am going to have a my own Seder next year, and I'm actually going to issue a warning beforehand that it's a religious ceremony that deserves attention. Once before I die, I'd like to have a real Seder, where people actually think about the meaning of the ceremony and have intelligent conversation. At this table, a lot of the discussion seemed to focus on dirty jokes, and on at least one occasion, a very unpleasant confrontation between two guests – I will say no more, but one person was clearly at fault and needs to learn better manners. A few people spent at least 75% of the time looking at their phones. I mean – there are actual, live people all around you, can you not look at photos or text with friends later, and focus on the moment? We have to blame ourselves a bit for this one, as we distributed the Hagadah service electronically, so everyone had their phone and I guess simply could not resist. If any of you read this, you know who you are. Maybe give it a little thought.
There was one genuinely hysterical moment. We couldn't find horseradish in the hyper-store, in spite of all of its variety, so we bought wasabi. Little did we know it was positively nuclear in its strength. We all put it on our matzoh, then put charoset (apple/honey/walnut mix, mortar in the bricks of the pyramids etc.) and took hearty bites. Long moment of stunned silence, followed by coughing, tears, moans, choking and cries for water. I'd give a lot to have a video of this moment, my god, it was funny. I've eaten sashimi with wasabi for decades, and I've never tasted anything like this. It was epic.
The food was utterly fantastic. Kudos to Sara Pipe-Mazo, who out of virtually nothing made such a delicious dinner. The very best was matzoh ball soup. Made with vegetable bullion and carrots, it was about the best thing I've ever had. I didn't realize I missed this food so much until I ate it once again. We had a roast chicken which she kept saying would be dry – it most decidedly was not – vegetarian chili, with left-over fixins' from taco night, wild rice with mushrooms, salad, a lot of wine, and a bunch of other stuff – chocolate-covered matzoh for dessert – really, just so good. Once again, I ate too much. And slept very well that night.
And just for fun, here's the view from the flat we rented, haha.
Lovely, isn't it? But the gorgeous weather laid a patina of loveliness over everything, no complaints.
Sunday was spent traveling back to Tbilisi on a bus, where the attendant actually walked through the aisle offering coffee (take note, Georgian Railways). I always love the ride through the mountains between Kutaisi and Khashuri, this is the Rikoti Pass, and in early spring it is truly stunning, filled with rushing rivers, blooming cherry trees, and endless green. This photo isn't mine, but it gives some idea:
Well, now back to work – just in the last few days, I've been offered 3 new jobs, one of which I actually had to decline, very regretfully, but the time constraints were just too severe. This is part of why I moved from working part-time in the CHCA office to full-time consulting – to have more control over my time, so I'm trying hard to put that into effect. This month I have a large grant to write for a new client, and a lot of editing … so, no more blog writing for now! I'll just end by saying that though it's a bit far-away in time, I am keenly and excitedly anticipating my upcoming trip to Spain and Portugal – you can count on some good travel blog posts then (September). Until that time, I'll try to put something interesting up here from time-to-time, along with my increasingly frustrated and angry political commentary. But that's for another day.